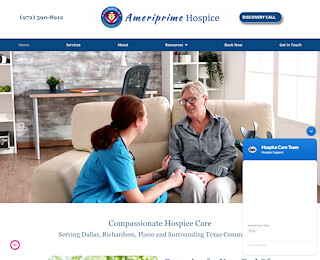 Hospice in Dallas focuses on the comfort, care, and quality of life that a person has when going through the final phases of a severe illness. This often includes spiritual and emotional support for the patient and their loved ones. However, it is often challenging to decide when to look at hospice center locations and how to select the best hospice care team.
Here at Ameriprime Hospice, we get asked various questions about our inpatient hospice centers and all of the related services we provide. All family members and each patient must be fully informed when looking into hospice in Dallas. We have put together some of the most frequently asked questions regarding hospice to give you an idea of what you are looking for.
Care And Hospice Locations FAQs
Q: What is hospice care?
A: This is a service for anyone with a severe or terminal illness that chooses not to cure or control their condition any further with treatment. Hospice provides comfort and solace with the aim to improve the quality of life for the patient nearing the end of life. It also helps various loved ones cope with the journey and provide support after the death.
Q: Will I be eligible for hospice?
A: Any person with a severe illness where doctors believe there is only a short time to live, which is six months or less, usually qualifies for hospice care. For Medicare to pay, the patient must stop medical treatment from controlling or treating the illness.
Q: When should someone start hospice?
A: Despite all the benefits of the best hospice care, many patients will wait until the final weeks or last few days of life. It is best to speak with your physician about the illness you have and how everything is progressing. Beginning hospice early on could provide months of quality time and meaningful care.
Q: What services can I expect from hospice care?
A: This depends on the end-of-life wishes and symptoms, as well as what the center you choose provides. Hospice generally includes emotional support and spiritual guidance for the patient and loved ones. There could also be assisting with planning for advanced care, handling physical therapy or OT, addressing daily activities, and more.
Q: Where would hospice take place?
A: Patients have options when entering into hospice care. You could move into a hospice care facility or request that you have services at your private residence. Many people opt for home hospice so they can have friends and family visit as often as they wish. Choosing where to receive hospice is personal, and we are available to speak with you about it here at Ameriprime Hospice.
Are you wanting to learn more about hospice in Dallas, or do you have other questions? We have a friendly and compassionate team here at Ameriprime Hospice ready to go over your needs and goals when it comes to hospice and all the related services that we provide. You are encouraged to give us a call for a free consultation and we are happy to set up a time to meet with you and your loved ones. Reach us at (972) 590-8912.