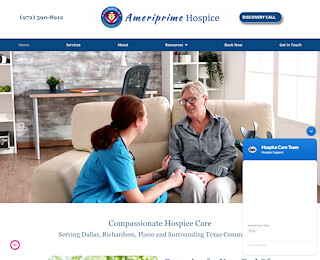 Once a patient is referred to hospice care in Richardson, it is important that the family takes the time to research their options. You may find that your referring physician or caseworker will give you a list of local hospice locations, which is a great way to get started. Ameriprime Hospice wants you to know that you do have options available to you, so take your time to look for the best hospice care team to fit in with your needs.
With any healthcare decision, being informed is important. This way, you know you are making a good decision for yourself and your loved ones.
Choosing The Right Hospice Care In Richardson Matters
All hospice center locations follow the guidelines put out by Medicare. Basic services offered will usually be the same at each. However, some differences are generally tucked away in the fine details. The more research you do, the easier it is to find the best hospice care and a team that will meet the needs of your unique situation.
What Is Hospice Care?
This end-of-life care focuses on allowing those with terminal illnesses and family members to live comfortably during the last phase of life. When someone is on hospice, they stop treatment for their illness and transition into end-of-life care and management. This means handling pain while ensuring the quality of life and dignity.
Inpatient hospice centers will have a care team that consists of doctors, nurses, social workers, volunteers, and chaplains. These individuals work together as a unit to ensure end-of-life is emotionally supportive and dignified for everyone involved.
With hospice care, the role of the family in everyday activities is emphasized. Family members and close loved ones are central to making decisions while also providing their loved ones with their presence and support when they do pass.
For many people, hospice care gets broken into different benefit periods. With each period, the hospice physician usually recertifies the patient to ensure they are still eligible for hospice care. The first two periods are usually 90 days followed by unlimited periods of 60 days that follow the second period of 90 days.
What Does Ameriprime Hospice Offer?
We take pride in offering patients and families a solid foundation during such an emotional and challenging time in their lives. We have a full staff of professionals that help administer pain relief, set up pertinent medical equipment, and ensure the family has everything they need. You can count on us for:
Compassionate care
Emotional support
Comfort and relief
It is important that you always feel as though you have someone who cares and understands. As a top facility offering hospice care in Richardson, we are here to address all the questions or concerns you may have when it comes to setting up end-of-life care. All you have to do is get in touch with us and we can talk about our services, get to know your family better, and go through an initial consultation to help you get started. Give us a call at (972) 590-8912, and a member of our staff will be happy to help.