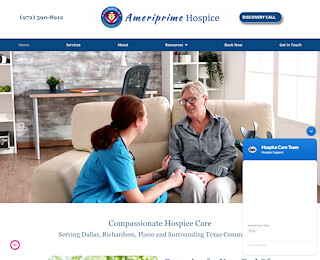 Reach out to compassionate hospice workers from AmeriPrime Hospice when someone close to you needs hospice care in Dallas. As you compare agencies for compassionate care in your home or the home of a family member, we encourage you to keep us in mind when you're considering hospice center locations. We're confident you will find that we are the best hospice care team in all of Dallas, able to provide a wide range of services to meet every need. Please take a moment to check into free resources on our website or get in touch with us by calling 972-590-8912.
5 Things That Make AmeriPrime Hospice Unique
1. Licensed physicians, registered nurses, and medical social workers from our inpatient hospice centers focus on providing relief and comfort, emotional support, and compassionate care. We work together to ensure your family member is kept comfortable and taken care of by caring professionals. Prescription refills are delivered 24/7 to ensure we stay ahead of the pain.
2. Schedule recurring visits in familiar surroundings for assistance completing daily tasks, such as bathing, dressing, makeup, and hair. Our nurses will see to incontinent supplies and bed pads if necessary while helping to maintain order and cleanliness in your home.
3. If you're a caregiver who needs a break, Our agency can provide 5 days of respite care so that you can recharge or catch up with personal issues that require your time and attention. Respite care is important to the health and well-being of every caregiver; taking time for yourself can help you provide excellent care to your loved one when you return.
4. Hospice care in Dallas from AmeriPrime Hospice includes 24-hour personal care and health monitoring when needed. If your loved one requires around-the-clock nursing, get in touch with our agency today to schedule a Discovery Call. During your phone call with one of our hospice specialists, we'll explain what we offer and how we strive to provide the best hospice care to every patient. Feel free to reach out to us at any time by calling 972-590-8912.
5. You'll find many free resources on our site, including informative blog articles:
End Of Life Care For Patients With Dementia
All You Need To Know About End Of Life Care
'Good Death" In End-Of-Life Care For Cancer Patients
How To Give Good End Of Life Care For CHF Patients
How To Identify The Best Hospice Care
24-Hour Continuous Hospice Care
And Many Others!
Take your time when choosing hospice care in Dallas; the choice you make when selecting a hospice agency will make all the difference in the quality of care your loved one receives. With 6 hospice locations, including a strong presence in Dallas, we believe we're able to provide exceptional quality care for patients and families when hospice care or respite services are needed.
To learn more, book your Discovery Call using our website platform. Click the 'Resources' link and select 'Discovery Call' from the menu, then select the day and time for your call from the calendar provided.